Fairness and Progress can be achieved when all voices are heard
Welcome to the Institute for a Better Internet
We are working to ensure all voices are heard so that decisions have the benefit of all views; and are fighting to protect citizens and news organizations from government encroachment on their right to free speech. We sponsor research to advance the value of due process with respect to violations that may result in loss of free speech and expression, and in doing so ensure transparency, shared standards, and fairness. Additionally, we sponsor research exploring the boundaries of protected speech – including speech serving no other purpose than intending explicit harm to persons, and education efforts for young people to openly consider the values of free speech and free press for fairness and progress in American.
"THINK OF WHAT THE PRESS HAS DONE IN THE UNITED STATES," SHE SAID CITING THE WATERGATE SCANDAL. "THAT STORY MIGHT NEVER HAVE COME OUT IF WE DIDN'T HAVE THE FREE PRESS THAT WE DO."

- SUPREME COURT JUSTICE RUTH BADER GINSBURG
"IF LIBERTY MEANS ANYTHING AT ALL, IT MEANS THE RIGHT TO TELL PEOPLE WHAT THEY DO NOT WANT TO HEAR."

- GEORGE ORWELL
"THE WORST WAY TO DEFEND OUR FREEDOM IS TO LET OUR LEADERS START TAKING AWAY OUR FREEDOMS! IT IS EXACTLY DURING TIMES LIKE THESE [A NATIONAL CRISIS] THAT WE NEED MORE FREEDOM OF SPEECH, A STRONG AND CRITICAL PRESS, AND A CITIZENRY THAT IS NOT AFRAID TO STAND UP AND SAY THAT THE EMPEROR HAS NO CLOTHES."

- MICHAEL MOORE
"IF THERE BE TIME TO EXPOSE THROUGH DISCUSSION THE FALSEHOOD AND FALLACIES, TO AVERT THE EVIL BY THE PROCESS OF EDUCATION, THE REMEDY TO BE APPLIED IS MORE SPEECH, NOT ENFORCED SILENCE."

- SUPREME COURT JUSTICE LOUIS BRANDEIS
"LET'S BE CLEAR: THE WORK OF SCIENCE HAS NOTHING WHATEVER TO DO WITH CONSENSUS. CONSENSUS IS THE BUSINESS OF POLITICS. SCIENCE, ON THE CONTRARY, REQUIRES ONLY ONE INVESTIGATOR WHO HAPPENS TO BE RIGHT, WHICH MEANS THAT HE OR SHE HAS RESULTS THAT ARE VERIFIABLE BY REFERENCE TO THE REAL WORLD. IN SCIENCE CONSENSUS IS IRRELEVANT. WHAT IS RELEVANT IS REPRODUCIBLE RESULTS. THE GREATEST SCIENTISTS IN HISTORY ARE GREAT PRECISELY BECAUSE THEY BROKE WITH THE CONSENSUS."

- MICHAEL CRICHTON, AUTHOR OF JURASSIC PARK AND MANY OTHER BEST-SELLERS
"MOST OF US ARE FOR FREEDOM OF EXPRESSION WHEN THERE'S A DANGER THAT OUR OWN VIEWS WILL BE SUPPRESSED. WE'RE NOT ALL THAT UPSET, THOUGH, WHEN VIEWS WE DESPISE ENCOUNTER A LITTLE CENSORSHIP HERE AND THERE."

- CARL SAGAN
"BUT, ABOVE ALL ELSE, THE FIRST AMENDMENT MEANS THAT GOVERNMENT HAS NO POWER TO RESTRICT EXPRESSION BECAUSE OF ITS MESSAGE, ITS IDEAS, ITS SUBJECT MATTER, OR ITS CONTENT."

- SUPREME COURT JUSTICE THURGOOD MARSHALL
"IF FREEDOM OF SPEECH IS TAKEN AWAY, THEN DUMB AND SILENT WE MAY BE LED, LIKE SHEEP TO THE SLAUGHTER."

- GEORGE WASHINGTON
We have a vision of a day when fairness and progress flourishes in America because its citizens can access and discuss ideas and principles without worry about government efforts at censorship and shutting down public debates and discussions.
Congress shall make no law respecting an establishment of religion, or prohibiting the free exercise thereof; or abridging the freedom of speech, or of the press; or the right of the people peaceably to assemble, and to petition the Government for a redress of grievances.
No State shall make or enforce any law which shall abridge the privileges or immunities of citizens of the United States; nor shall any State deprive any person of life, liberty, or property, without due process of law; nor deny to any person within its jurisdiction the equal protection of the laws.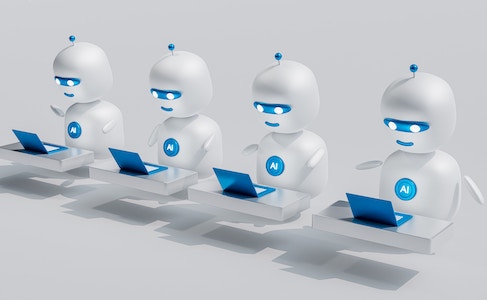 OpenAI, developer of the ChatGPT language model, is the best-funded and largest AI platform company with over $10 billion in funding at a valuation of nearly
Read More →
We are working to ensure all voices are heard so that decisions have the benefit of all views; and are fighting to protect citizens and news organizations from government encroachment on their right to free speech.
530 Lytton Ave. Second Floor
Palo Alto, CA 94301
United States
Fairness and Progress can be achieved when all voices are heard
IBI Started When Three Friends Discovered a Shared Concern
IBI started in March 2021 with a clear goal: to be non-partisan champion for free speech, free press, and due process related to free speech and free press. These freedoms are essential for the country to build a path toward fairness and progress which are the key themes of IBI.
The co-founders Brian Jackson, Mike Matthys and John Quinn all grew up in Iowa – two have known each other since middle school and all three have known each other since the early 1980s.
IBI is focused on free speech, free press, and due process related to free speech and free speech in order to ensure the country continues on a path toward fairness and progress. Fairness and progress are the key themes for IBI.
Among the co-founders, John is the one who has been active in various political groups including work in Democratic candidate campaigns, Climate Reality and American Promise."I joined IBI with Mike and Brian after observing my friends, including a well-respected journalist, getting blocked on Facebook for posting articles on how other countries like South Africa are using well-known medicines to help people with Covid or Lyme disease. It seems these platforms may be following their own science rather than allowing users to post scientific information from abroad." John Quinn on why he cofounded IBI.
Brian has been an insider within Google and Facebook engineering organizations for years. "Both companies are full of smart people, but I don't think either of them truly want the responsibility of judging what content should or should not be blocked. I decided to help co- found IBI after being concerned by media handling of election stories, and later became further concerned to see a well-known author have one of his books removed from Amazon without so much as an explanation." Brian Jackson on why he co-founded IBI.
Mike has been a long-time Silicon Valley executive with many years of experience living and working overseas. "Living in several overseas countries has given me a sense of what press censorship and speech self-censorship looks like. After seeing leaders in Congress write a letter to regulated TV companies like Comcast and AT&T, I recognized this as an effort at government censorship of certain TV channels with whom these leaders of Congress disagreed on political issues. Talking with many friends who are primarily left-center or liberal, I found most people in Silicon Valley recognized this was not good for the country – regardless of whether they believe those TV channels are good or bad." Mike Matthys on why he co- founded IBI.
Silicon Valley
Tech Bus Exec
Mike grew up in Iowa and has worked for several decades in the telecom industry and then with Silicon Valley technology businesses. He is a tennis player "wannabe" who has 4 children and has lived and is an internationalist who has worked in Sydney, Tokyo, London and Amsterdam. Mike has noticed how people and entities in different countries and cultures handle free speech and how this can include self-censorship to avoid government pressures or social consequences.
Silicon Valley
Tech Bus Exec
Brian grew up in Iowa and has spent his career working in several technology start-ups as well as holding engineering leadership roles at Google and Facebook. Brian has been interested in free speech issues for the last several years, particularly in the area of what principles justify limiting free speech and who decides applies those principles. Brian is also very busy as the proud father of five daughters.
Dallas, Texas
Transportation Exec
John grew up in Iowa, lived in South Africa during apartheid, and has worked in major urban mass transit organizations in Texas for several decades. He is a long-time outdoor enthusiast and a Leader in Al Gore's Climate Reality organization. John has actively supported Democratic political campaigns in both Iowa and Texas. John became interested in free speech issues after observing blocked speech related to medical science. He is also actively engaged working with the American Promise organization to overturn the Citizen's United Supreme Court decision.